What's New?
3 Press Release Content Ideas
The voracious appetite of Internet users makes it essential that companies find the best content to create press releases consumers care about and that can keep the company name top of mind. Consider these ideas for press release content.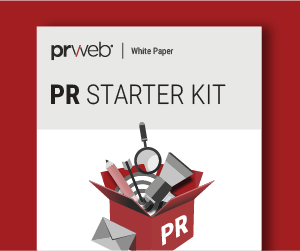 PR Starter Kit
PRWeb's "PR Starter Kit" puts you on the right track with a strong foundation so you'll be able to tackle everything from writing press releases to pitching to measurement.
How To Improve Your ROI With Online News Releases
If you're tired of exhausting your marketing dollars on expensive campaigns that don't bring customers or positive ROI results, watch this webinar to learn ways you can use your news to successfully build your online presence, drive traffic to your website and improve search engine rankings.
About PRWeb
Get Big Publicity with a PRWeb Press Release
A PRWeb press release can help your business or organization get reach and publicity on the web across search engines, blogs and websites in just a few simple steps.